I get starry eyed. I'm at a place where I can admit it now. When I am not helping my daughter with her reading list, making breakfast, focusing on my career or out burning calories, I often find myself caught up in celebrity gossip. That my discovery of CBD oil coincided with many of my favorite celebrities own discovery of CBD has made it all a little more fun and interesting.
I know, I know, following the Gram or Facebook profiles of people like Kim Kardashian or Jennifer Aniston is an indulgence I am not always proud of, but what can I say. I also know that mentioning a product on their IG account may well be a paid gig, but I use CBD oil so what they are saying echoes my own experiences.
I'm obsessed with all of the wedding talk between Olivia Wilde and Jason Sudeikis. She is beautiful and he is hilarious. My indulgent fascination only deepened when I found out that Olivia Wilde uses CBD. She told the New York Times early last year that she used CBD while working on Broadway.
"Recently I did a play on Broadway for six months, and my body was wrecked. My neck was really tight."
Exactly! I don't know about you, but everything I read about the current opioid epidemic and the abuse of prescription painkillers is disturbing.
One of my favorite boss ladies is Whoopi. She has been talking about sipping on her vape pen for years now. I am not into smoking/vaping personally. I don't need anything to make my breathing any harder when I workout, but to each their own. I am very content with CBD gummies or a CBD cookie though. Especially our own Sugar and Kush low calorie CBD products.
Whoopi Goldberg said, "For me, I feel like if you don't want to get high, this is a product specifically just to get rid of discomfort."
You better believe I don't want to get high! I don't know where I could fit that into my life even if I wanted to. Yet another reason why a nice cotton candy CBD oil drop from Sugar and Kush is my preference. There is 0% THC in these products and I can easily confirm that I am only consuming CBD from the lab test report I can access on each product page.
And then sometimes I need to get my runway model fix in too. The Victoria Secret models live this completely unreal life. Their Instagram accounts give me a window into a life of glitz and glam from Paris to Rio. I can't imagine. To hear these seemingly perfect women talk about their own pains and challenges is actually reassuring. If they are finding the same benefits of CBD as I am, then I feel a small connection to them.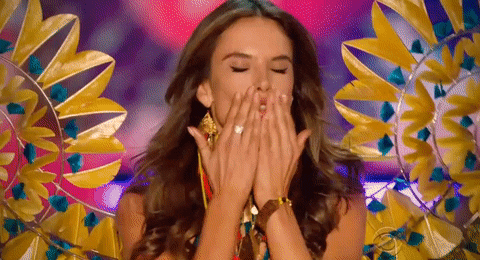 The absolutely gorgeous Alessandra Ambrosio said, "The most important thing to do [to prep for the Victoria's Secret Show] is to sleep eight hours the night before. It's hard because the mind gets anxious, so I try CBD oil, and I think it helps."
That just rings so true to me. Think about how much focus it takes to be perfect on the runway all of the time with cameras and lights flashing everywhere. Yet another example of how CBD oil is helping every person at every stage of life it seems.
Then of course there is the queen of social, the one and only Kim Kardashian West. 130 million followers! Can you imagine that? There is no need to get into her life because who doesn't know Kim. I wasn't surprised at all that she is using CBD.
"Anyone that knows me knows that I am obsessed with CBD everything! This is not an ad lol." Kim announced this on her Instagram Story. I love that she had to disclose that it wasn't an ad when everyone still knows it actually is an ad. I wonder what she would think of some bubble gum CBD oil drops? I bet they would become one of her favs.
Last, but never least, my favorite celebrity woman + CBD combo is Jennifer Aniston. I still love Friends. Jen said,
I think that if Jen and I ever met we would become instant besties. I picture myself offering her some vanilla CBD oil drops for her coffee and us having an inspiring morning where we talk about all that we have in common. We would stay focused and discover peace on Earth together. Okay, I'll stop before you start thinking I am insane.
Celebrities and CBD are fun to talk about, but the truth is that the benefits of CBD are still being explored by the medical community. The end of prohibition has opened a door to living a more comfortable life for all people, and their pets too apparently. While I take CBD very seriously, the whole glamour of CBD in Hollywood adds a nice fun element to it too. We all seem to be taking CBD for comfort.
Which Sugar and Kush CBD product do you think these celebrities would like the most? Do you think they would love the low calorie CBD cookies? How about the flavorful CBD oil drops?